Channel Islands Choral Association (CICA) is pleased to announce that we are taking a giant leap forward and holding our big annual fundraising event "Swing into Spring" gala to the Camarillo's Freedom Center on May 17, 2015 from 5:00 p.m. to 8:00 p.m.
We invite you to join Professor KuanFen Liu, the CSU Channel Islands Choir and Professor Steve Marsh for a fabulous evening of music, food, drink and fun supporting choral music education in our local elementary schools.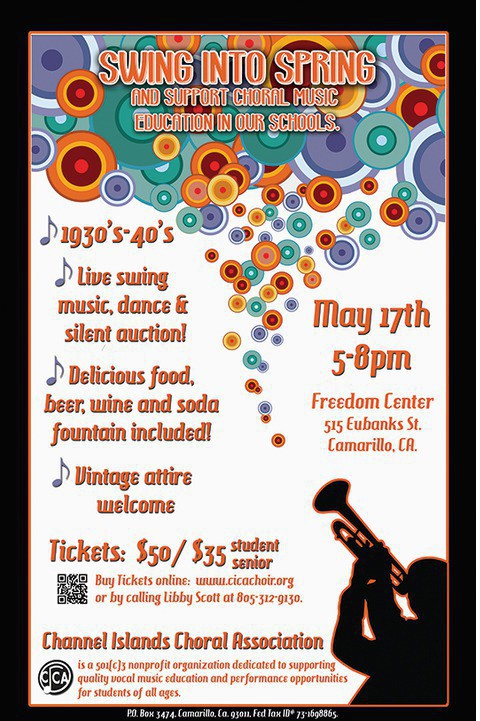 Currently, CICA is the official administrator and funding organization for the Pleasant Valley School District Chorus, an after school music enrichment program for grades 3-6 in the Pleasant Valley School District. Also, in collaboration with CSU Channel Islands, CICA sponsors the CSU Channel Islands Choir, a class that is open to students, faculty and staff of the university as well as community members. CICA covers all additional costs for the choir and provides performance opportunities off-campus, including an annual choral- orchestral program. CICA is providing its singers with a choral experience far broader than the four walls of a classroom.
CICA exists because of the caring of the local community. We are an all-volunteer organization, and with your support, we can make a big difference to Camarillo area students' vocal music opportunities.
So, step back in time to the golden age of the 1930's and 40's and listen and dance to swing music played by Professor Steve Marsh and his 7-piece "Hep Cats Swing Band" and CSU Choir. Enjoy an all-inclusive evening with food, wine, beer, and even a special 'Rocket Fizz' root beer float. For those more adventurous, there will be No-Host Vintage Cocktail Bar! Vintage attire is welcome, but not required.
Put on your "String of Pearls", get yourself "In The Mood", and get ready for a "Sentimental Journey" where you can "Boogie Woogie (Bugle Boy)".
Tickets may be purchased online by visiting www.cicachoir.org or by calling Libby Scott at 805-312-9130.
We look forward to seeing you at Freedom Center in Camarillo on Sunday, May 17, 2015.