6 minutes reading time
(1172 words)
The Music Academy of the West's 2017 Marilyn Horne Song Competition Winners National Recital Tour Begins March 22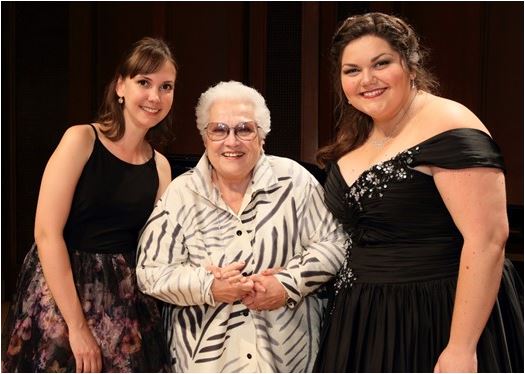 Soprano Hannah Rose Kidwell and pianist Christina Giuca will perform in recital on tour in March 2018 in Houston, Santa Barbara, Chicago, and New York City
Santa Barbara, CA — The Music Academy of the West proudly hosts the nation's premiere annual competition for song recitals, the Marilyn Horne Song Competition. Academy fellows have competed annually since 1997. This year, the competitors performed for a panel of esteemed judges – Marilyn Horne, Renée Fleming, and Jake Heggie. The 2017 winners of the Competition, soprano Hannah Rose Kidwell and pianist Christina Giuca, will perform a program including the world premiere of a song cycle written by Jake Heggie, who was a guest composer at the Music Academy this summer.
The cycle was commissioned as part of a Commissions and Premieres Program, composed with the winners in mind. Each winner receives the Regina Roney Prize of $5,000, and is presented in the national recital tour which includes Houston at St. Paul's Methodist Church (Thursday, March 22, 7 pm), Santa Barbara at Hahn Hall on the campus of the Music Academy of the West (Monday, March 26, 7 pm), Chicago at the Preston Bradley Hall of the Chicago Cultural Center as part of the Dame Myra Hess Memorial Series (Wednesday, March 28, 12:15 pm), and New York City's Steinway Hall (Friday, March 30, 7 pm). The Chicago recital will be broadcast live by WFMT 98.7 FM and streamed live at
wfmt.com
.
In addition to the award and recitals, artist winners receive coaching from the Academy Voice Program faculty artists, as well as consultations with New York-based communications firm 21C Media Group and professional photos.

Admission for these events will be free in Houston, Chicago, and NYC, and affordably priced at $10 in Santa Barbara, with 7-17 year olds admitted free when accompanied by a ticketed adult. Tickets go on sale to the general public on January 9. The competition and winner's recital tour has been generously supported by The Little One and The Lucky One Foundations and Steinway & Sons.
About the Marilyn Horne Song Competition Winners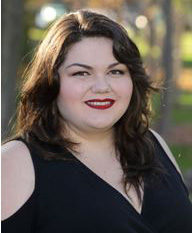 Soprano Hannah Rose Kidwell, 21, born in Montebello, California is a third year bachelor's student at Chapman University. In Chapman's opera program, Ms. Kidwell has performed in Donizetti's L'Elisir d'Amore, Kurt Weill's After Dark, and portrayed the title role in Puccini's Suor Angelica. Ms. Kidwell most recently made her debut with The Pacific Symphony as the Witch in Hansel and Gretel. Ms. Kidwell was a semi-finalist and scholarship winner at the national Classical Singer Competition, the winner of the New Century Singer's Competition, and the most recent winner of the Vocal and Concerto Competition at Chapman University.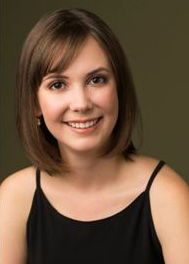 Pianist Christina Giuca, 30, born in Chicago, Illinois, holds degrees from the Shepherd School of Music and Oberlin Conservatory. Ms. Giuca was a répétiteur for Opera in the Heights in Houston. Ms. Giuca was awarded a Collaborative Piano Fellowship at Bard College and has served on music staff for the Houston Ballet, Eastern Music Festival, and SongFest. Ms. Giuca was recently a guest artist at the Oregon Bach Festival Composers' Symposium. 2017 marked her second summer at the Music Academy of the West, having previously attended in 2013.
About the Marilyn Horne Song Competition
The Horne Competition, which uniquely awards equal prizes to pianists and singers, is presented in memory of longtime Music Academy faculty artist Gwendolyn Koldofsky, one of the great teachers of collaborative piano of the 20th century.
Each singer performs three songs of varying styles for the jury and a public audience. One song must be sung in English. The pianists perform with one or multiple singers and award winners may or not have performed together.
The competition helps to launch the career of young promising opera singers and pianists. Previous Marilyn Horne Song Competition vocal winners are performing leading and featured roles in major opera houses around the globe. In the United States, winners have performed at the Metropolitan Opera, San Francisco Opera, Lyric Opera of Chicago, Santa Fe Opera and Los Angeles Opera, among others. Past winners include Metropolitan Opera stars Evan Hughes ('05,'06), Isabel Leonard ('05), and Nadine Sierra ('07), and pianist Spencer Myer ('98,'00).
About the Music Academy of the West
The Music Academy of the West is among the nation's preeminent summer schools and festivals for gifted young classically-trained musicians. At its ocean-side campus in Santa Barbara, the Academy provides these musicians with the opportunity for advanced study and performance under the guidance of internationally renowned faculty artists, guest conductors, and soloists. Admission to the Academy is strictly merit based, and fellows receive full scholarships (tuition, room, and board). The Academy's distinguished teaching artists roster has included famed soprano Lotte Lehmann, composers Darius Milhaud and Arnold Schoenberg, cellist Gregor Piatigorsky, pianist Jeremy Denk, and current Voice Program Director Marilyn Horne. Academy alumni are members of major symphony orchestras, chamber orchestras, ensembles, opera companies, and university and conservatory faculties throughout the world. Many enjoy careers as prominent solo artists. In 2014 the Music Academy entered into a four-year partnership with the New York Philharmonic, resulting in unprecedented training and performance opportunities for Academy fellows, and Summer Festival residencies for Philharmonic musicians.
The Music Academy of the West cultivates discerning, appreciative, and adventurous audiences, presenting more than 200 public events annually, many of them free of charge. These include performances by faculty, guest artists, and fellows; masterclasses; orchestra and chamber music concerts; and a fully staged opera. The 2017 Summer School and Festival took place from June 12 to August 5 at the Academy's scenic Miraflores campus and in venues throughout Santa Barbara. For more information, visit musicacademy.org.
TURINA Tres Poemas, Op. 81
Olas gigantes
Tu pupila es azul
Besa el aura

MAHLER Rückert Lieder
Ich atmet' einen linden Duft!
Liebst du um Schönheit
Blicke mir nicht in die Lieder
Ich bin der Welt abhanden gekommen
Um Mitternacht

ENESCU Sept chansons de Clement Marot
Estrene à Anne
Languir me fais
Aux damoyselles paresseuses d'escrire à leurs amys
Estrene de la rose
Present de couleur blanche
Changeons propos, c'est trop chanté d'amours
Du confict en douleur

JAKE HEGGIE "These Strangers"
(world premiere, Music Academy of the West commission)
Includes poems and texts by Emily Dickinson, Frederick Douglass, Martin Niemöller, and Walt Whitman.

PORTER "Looking at You"

BERNSTEIN "Somewhere," from West Side Story

FOSTER "Beautiful Dreamer"
Program subject to change
PLEASE NOTE: The Chicago program will include selections from the above, but will be a reduced concert length.
Mon, Mar 26, 7 pm
Hahn Hall, 1070 Fairway Road, Santa Barbara, California
$10 / 7-17s Free
musicacademy.org/recitals • 805-969-8787
Fri, Mar 30, 7 pm
Steinway Hall, 1133 6th Avenue, New York, New York
Free tickets required for admission, order online
musicacademy.org/recitals • 805-969-8787
Comments
No comments made yet. Be the first to submit a comment