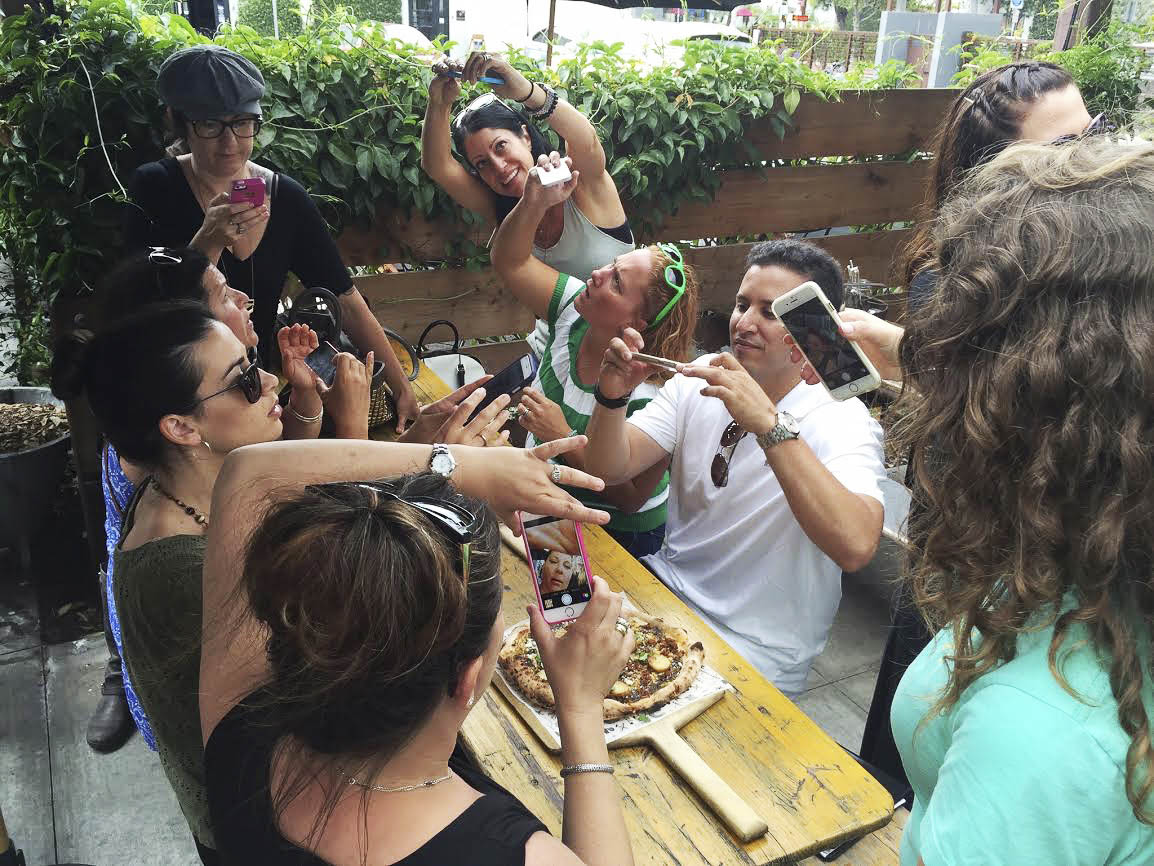 Photo credit: Lauren Salaun, On the Funk Zone Food Tour June 2015
People are often intrigued to hear that I don't have any social media. In high school, when I decided to boycott what seemed like a trend, my decision was not isolating, but quirky. To my surprise, that 'trend' has stuck and I am clueless about a very real and valued piece of modern life. I am confused by most concepts that relate to social media trends, except for one: the craze that is food photography. Even the least versed person in Instagram etiquette can understand not only the wish to boast about a particularly delicious looking meal or the vicarious delight that comes from finding one of these on your feed.
When I heard about Eat This Shoot That, a food and photo tour of Santa Barbara, I immediately thought it was a genius way to see a city and wanted to take one myself. What could describe a city better than a taste of the local cuisine? And how can these memories be cherished better than by learning the secret to capturing them on camera? I had the opportunity to talk with Tara Jones, the "Owner/Big Cheese" (as her email signature notes) of this four-year-old business. Tara has an extensive background in photography and, like most of us, a great appreciation for food, which gave her the inspiration to open this now very successful tour concept. I got the chance to ask her about her inspiration, love for food and photos, and much more and quickly became even more excited by her unique company.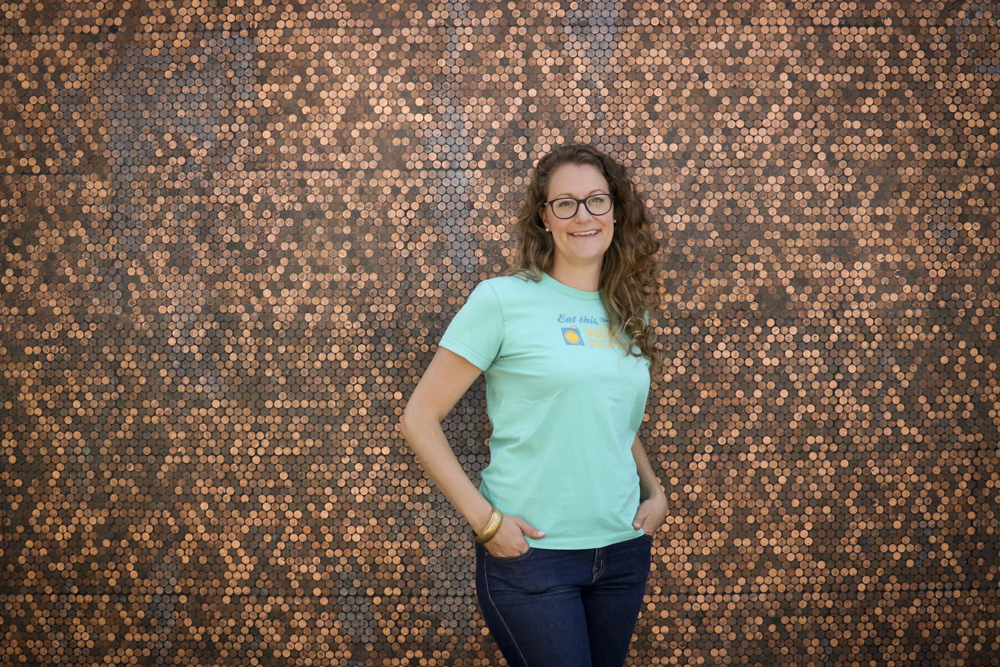 Tara Jones, the "Owner/Big Cheese" Photo credit: Skye Bennike
Eat This Shoot That has been a successful food and photo tour for four years now, but where did it all begin?
I moved here 15 years ago and went to Brooks Institute of Photography. After I graduated, I had a lot of different jobs, but mainly I was a wedding photographer for about eight years and I did graphic design after that. And then, the economy crashed. I thought it'd be smarter for me to do my own thing than try to get a job with somebody else, so I started teaching photography workshops on the weekends. And they were selling out. Every time they were selling out. It was amazing. I was shocked because of the economy, but people still found money to come to these workshops. Then I realized that a lot of them were from out of town, so I was like hey, a lot of out-of-towners are coming to do some fun stuff. And a lot of people were telling me that I should start something bigger. So I thought I'm just gonna go for it, so I started Eat This Shoot That and it was a food and photo tour which it still is. And that was our flagship tour and that was four years ago and really it took off from day one.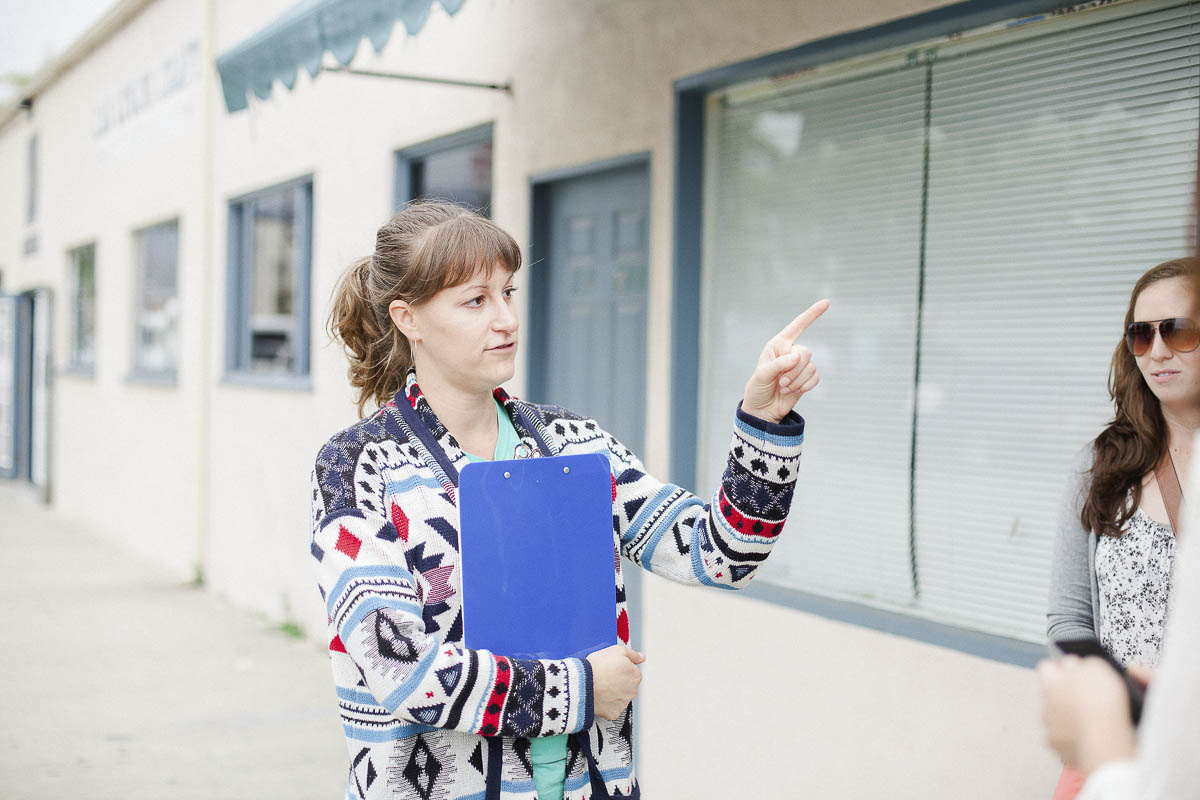 Tara Jones conducting a tour. Photo Credit:Jessica Roy
Where do you think all of the success has come from?
At the time, there were no food tours in town and you throw in the photo aspect and it's just so fun. It was really gratuitous timing because it was right around the time that Instagram was really starting to get popular so it was so easy to incorporate photography into these tours because even if people didn't have a big camera with them, they had their smart phone and now, hardly anyone brings a big camera. So now, four years later, we have two tours running, we have the food and photo tours in Funk Zone and we also have the El Paso wine and photo tour. The food tour focuses on food photography and the wine tour focuses on travel photography.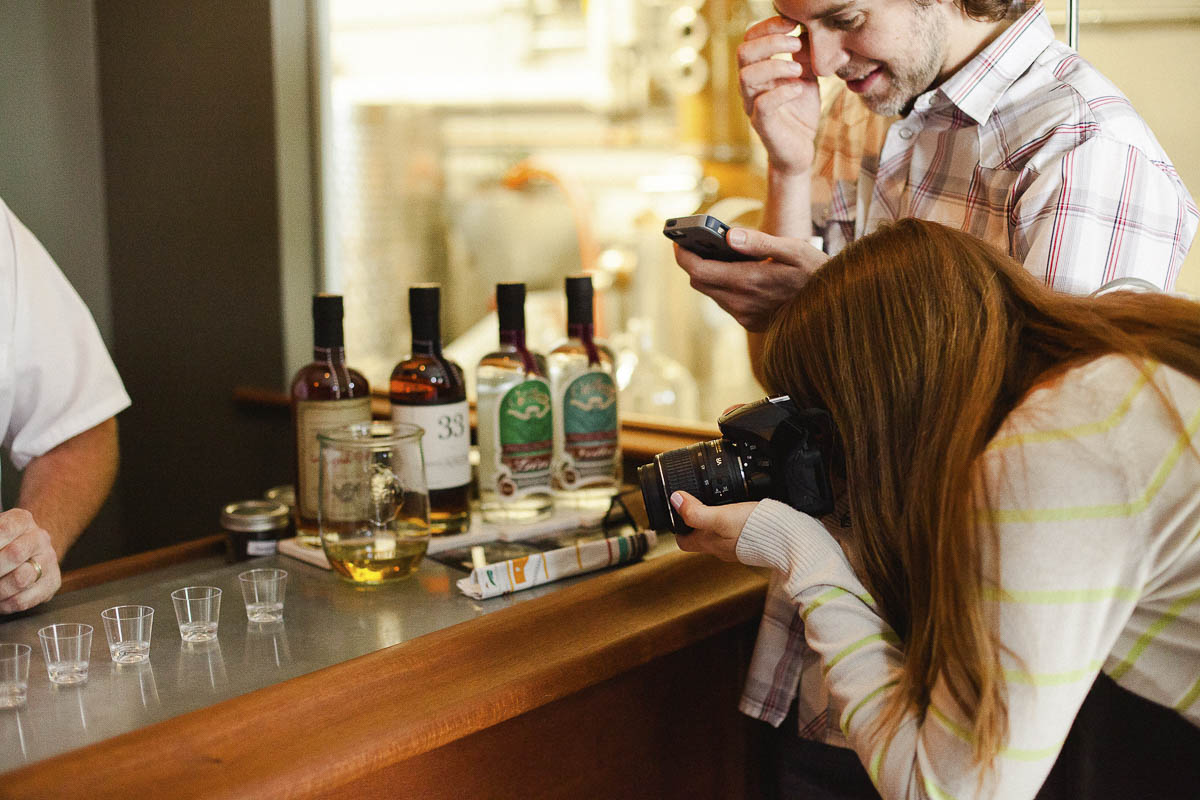 Can you give readers one piece of food photography wisdom that they may hear on the tour?
For a good food picture, you really want to get up close and personal with your food and you don't want to take shots that are far away. Even when you think you're up close and personal, you should probably get even closer. You should be so close to the food that you almost can't see anything else in the frame. Pictures of a meal from a bird-eye-view, we call that the blogger shot. That looks nice because you can usually see some people involved and it makes us abale to picture ourselves at the table. But it's not always easy to do, so we teach you about how to light the food, how to style it on the plate if it doesn't look good so you can get that shot.
The whole idea is, half of the photos that you saw about Santa Barbara are probably food related, it's such a foodie city, and so when you go home, you want to have taken the same photos that you saw. So that's really our goal is to get you on the pro level so that you know how to do it with just your phone.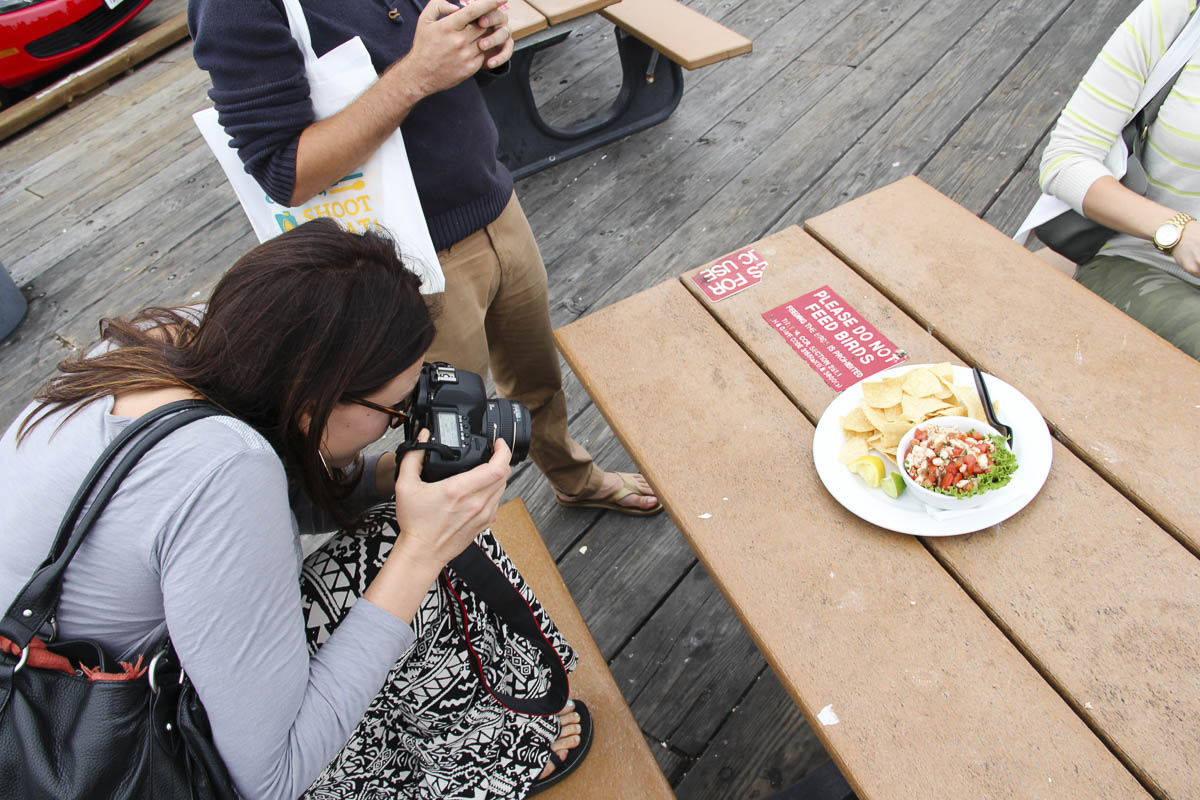 Photo Credit: Lauren Salaun
Can you give us a peek into what participants may eat on the tour?
We're covering everything that Santa Barbara is known for, so sea food, Mexican food, and artisan meats and farm to table. Also craft brews and local wine. So you're hitting up all the aspects of what Santa Barbara is known for. The food here is just unrivaled. There's good food in other cities, but I feel like when you're eating in Santa Barbara it's so much better because the ambiance is incredible. It's like, you can have a croissant at home, but if you can have a croissant on the street in Paris that one hundred times better. It's the same idea here, I'm sure you could have a taco at home, but you haven't had tacos in Santa Barbara. It really sells itself.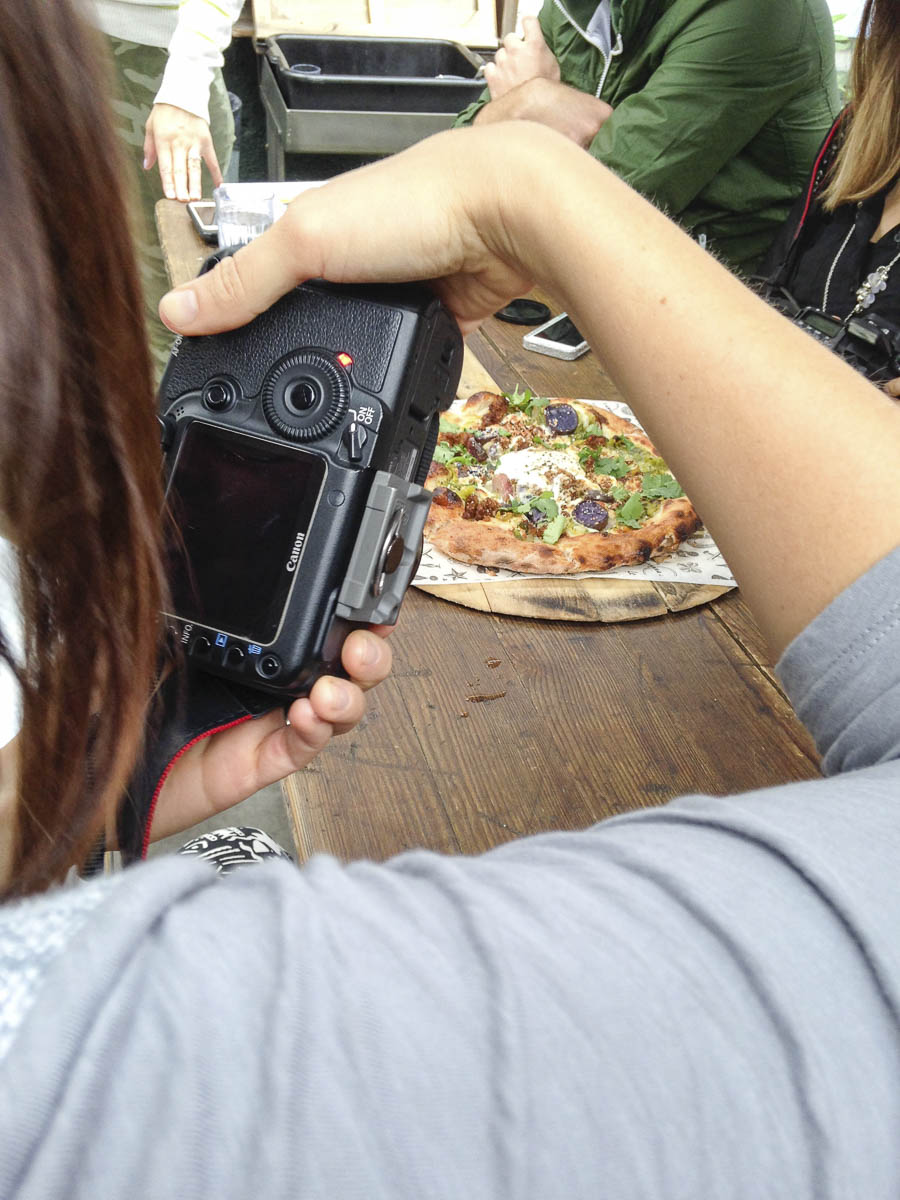 Photo Credit: Lauren Salaun
When I think back on many of my favorite memories, they occurred over food. Did the ability for food to forge connection have anything to do with the creation of Eat This Shoot That?
Community was a big part of my coming up with this company. I really liked the idea of not just starting a company that benefitted myself, but something that benefited other businesses in town. I wanted to create a business where people could come together and see a part of a small community even thought it's just for three hours. Pretty much everything we serve on the tour, with the exception of tacos, is all family-style and I like that because I don't want people to just come on a tour, eat some food, and then go home. I want them to have a good experience here and I don't think you can have a good experience until you've interacted with other people. Part of what's s cool about travel is the people that you meet while you're on the road. That's something really special and something that only happens when you do something that forces you to be in a community with people even for a short while.
For the opportunity to experience family-style Santa Barbara food, photo tips, and the to meet like minded travelers, visit http://eatthisshootthat.com/ to book a food or wine tour today.