2 minutes reading time
(427 words)
Artist Opening: Janet Bothne & Judy Hintz-Cox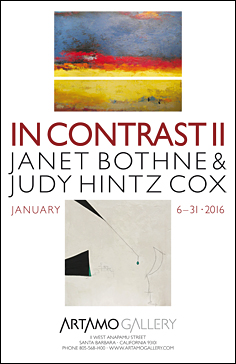 Janet Bothne & Judy Hintz-Cox
January 6 - January 31, 2016
Artamo Gallery
,
Santa Barbara, CA
There will be an Opening Reception Thursday, January 7, 2016 5:00pm to 8:00 pm.
In the second show of its "In Contrast" series ARTAMO GALLERY is setting Janet Bothne's works against those by Judy Hintz Cox.
Janet's paintings -- many from her ongoing "Long Division" series -- feature intense colors and textures. Judy Hintz Cox, in contrast, explores a minimalistic style with little color and few, mostly linear script-like elements in black on white surfaces.
Janet Bothne grew up in Massachusetts and studied Fine Art with a focus on painting at the University of Massachusetts, Amherst, in the early 1980's. From there she went on to numerous endeavors including antique restoration, freelance portraiture and illustration, and painting commercial murals.
She moved to the Los Angeles area in 1996 where she married her artist's eye with computer skills, becoming a graphic designer and humorist for a silk-screen company — but her passion for drawing and painting pushed its way to the forefront of her life in 2003, when she quit her job to pursue her dream.
Over time, her foundations in realism have given way to a fresh, bold abstract expressionism that allows her to explore color as her sole focus and subject matter.
In the ten years now that Bothne has been painting full-time, her works have garnered awards at three Southern California juried shows and her collectors now span across the U.S. and abroad. Since last year she lives and works in Albuquerque, New Mexico, to be closer to the vibrant Santa Fe art scene and market.
Judy Hintz Cox is a contemporary abstract artist and started painting thirty years ago while living in South America after serving as a Peace Corps volunteer in Ecuador. Her initial shows were in Peru and Brazil and through the years she has had over 60 exhibits (including single, dual and group shows) around the globe. Her work is in collections throughout the world and has appeared in numerous magazines including a cover spread in InStyle magazine featuring Kelsey Grammar's home and art collection.
Judy's abstract expressionist paintings are characterized by the presence of thick and vibrant color. These works serve as a striking contrast to her minimalist pieces, which evoke a sense of serenity via a mostly white palette.
Tuesday–Sunday, 12:00–5:00 PM
First Thursday until 8:00 PM
and by appointment only
Comments
No comments made yet. Be the first to submit a comment